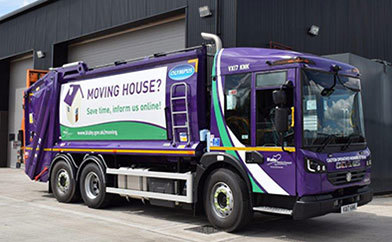 Bin collections for the festive season have been arranged, with changes to ensure bin crews enjoy the Christmas holidays and residents get both their refuse and recycling bins collected.
The 2020 Christmas arrangements include:
No collections from 25 December-01 January
Double collections on 18-24 December and 02-07 January
Both refuse and recycling bins to be presented on double collection day
Friday 01 January collection moves to Saturday 02 January
Double Collections
On the last scheduled bin collection before Christmas Day, and the first scheduled collection of 2021, residents are asked to present both their refuse and recycling bins.
All schedules for Christmas and throughout 2021 can be found on the website.
New Year's Day scheduled collection
Residents usually collected on a Friday are asked to present their refuse and recycling bins on Saturday 02 January, with crews emptying bins on this day.
Excess Waste
Up to three clear plastic bags of recycling will be taken beside a bin on the first collection after Christmas.
For safety reasons, please ensure that any glass or sharp objects are placed in your bin rather than in any clear plastic bags.
No additional refuse waste will be collected.
To dispose of any excess waste, book a slot at Leicestershire County Council's tips on their website.
Excess Cardboard
So that the collection team can safely handle and load card onto the vehicle please ensure that the card could all fit into your bin if it were empty with the lid closed.
Any larger pieces of cardboard should be reduced so that they are no bigger than the height and width of the bin. Please also ensure that any other material, such as polystyrene, is removed.
The waste team wish all residents a very merry Christmas.
11 December 2020
http://whetstoneparishcouncil.gov.uk/wp-content/uploads/2016/08/Whetstone-logo-light.png
0
0
Clerk
http://whetstoneparishcouncil.gov.uk/wp-content/uploads/2016/08/Whetstone-logo-light.png
Clerk
2020-12-14 14:55:44
2022-08-25 09:44:12
Christmas bin collection arrangements