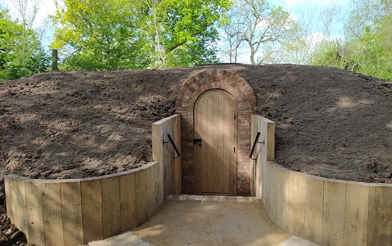 Restored to its former glory after more than 25 years, work on the historic Ice House at Blaby District Council's Bouskell Park, Blaby, has been completed.
Work began on the Ice House last autumn and included the installation of a new retaining structure, rebuilding the tunnel entrance, as well as a new door and dome cover. Railings, landscaping of the area and signage were also included as part of the extensive redevelopment.
First built around 1843, the Ice House allowed the wealthy residents of nearby Blaby Hall to have a more varied and exclusive diet with ice from the next door pond.
£156,000 of the £173,000 project was supported by a grant from the Heritage Lottery Fund, with the rest funded by Blaby District Council. The restoration overcame a number of obstacles, including the Coronavirus pandemic, continued difficult weather and unforeseen structural issues to the structure of the dome.
The Ice House was officially opened by Albero Costa, MP for South Leicestershire, Councillor Terry Richardson, Leader of Blaby District Council and Councillor Sharon Coe, Portfolio Holder for Health, Wellbeing, Community Engagement and Business Support
Councillor Coe said: "We have been so excited to follow this project through from the initial Heritage Lottery Fund award to our now-completed Ice House.
"Restoring the Ice House is part of our Tourism initiative to showcase Blaby District is a great place to live, work and visit, and a huge amount of work has gone into restoring the Ice House to its former glory.
"We cannot wait to show the Ice House to both residents and visitors to the district as well as local schoolchildren, and we're also looking forward to our upcoming Community Dig taking place at the end of June."
Tours of the Ice House will start in mid-June and anyone interested in booking a tour to see inside the Ice House and learn more about the historic structure can head to the Visit Blaby website.
The Community Dig will take place in the last week of June in partnership with the University of Leicester Archaeological Services team, and will be hosted with Covid-safe guidelines in place to ensure the dig is as safe as possible.
A video of the restored Ice House is also available to view on YouTube.
28 May 2021
http://whetstoneparishcouncil.gov.uk/wp-content/uploads/2016/08/Whetstone-logo-light.png
0
0
Clerk
http://whetstoneparishcouncil.gov.uk/wp-content/uploads/2016/08/Whetstone-logo-light.png
Clerk
2021-06-02 14:43:29
2022-08-25 09:44:12
Blaby Ice House works complete